The 12th Conference of AASP was held at Massey University in Albany (on the North Shore of Auckland) August 26-28, 2017.  AASP's "Summer" School was hosted there as well Aug 22-25 (it was actually a winter school as August is winter in the Southern hemisphere).
The conference was attended by over 300 international delegates from more than 20 countries, and by about 350 delegates overall.  Mainland Chinese were the largest national grouping of delegates, followed closely by Japanese.  The next biggest groups were from Indonesia and the Philippines, then Taiwan, New Zealand, Malaysia, and S. Korea. The conference was supported financially by the School of Psychology at Massey University and by the College of Humanities and Social Sciences, within which psychology sits, as well as AJSP publisher Wiley-Blackwell.
The conference was opened by School of Psychology kaumatua (Māori term for respected elder) Nephi Skipworth (pictured below on the left), and Member of Parliament the Honorable Maggie Barry, whose portfolio as Minister of Conservation, Arts, Culture and Heritage, and Minister of Seniors for the New Zealand government fit well with the AASP conference theme of "Making a Difference with Social Science".  James Liu (out-going AASP Past-President), and out-going AASP President and now Past-President) Allan Bernardo are also pictured.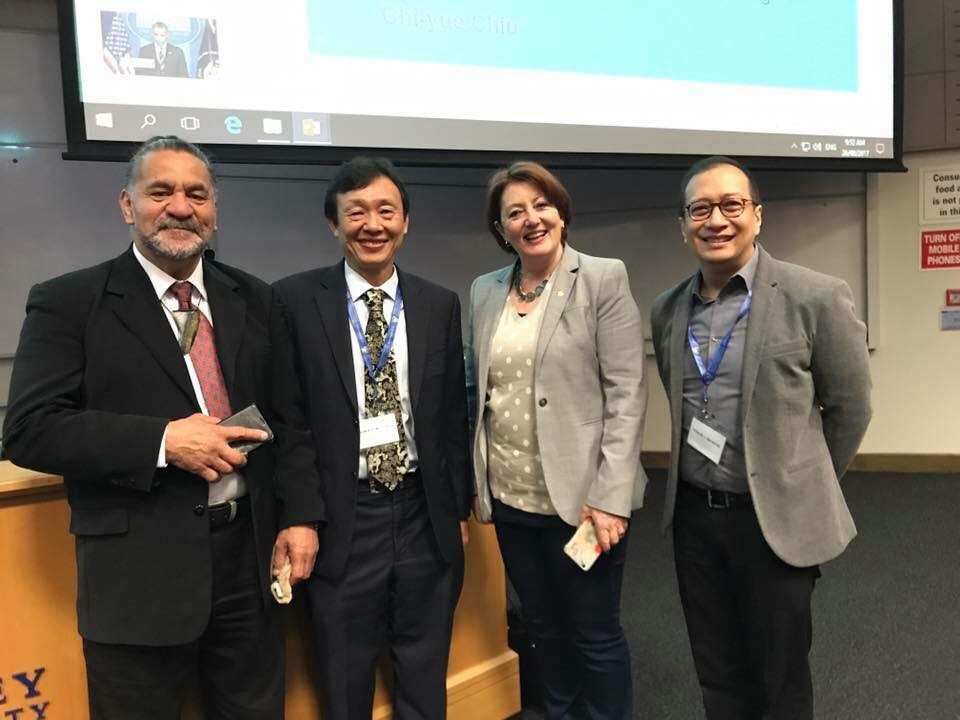 About 250 individual papers were presented, as well as almost 100 posters. The Albany campus was an excellent venue for a conference of this size.  Its largest lecture theatre in the Sir Neil Waters building is capable of holding 300, so we had 2 keynotes there every morning. A delicious lunch and socializing followed this in the foyer where poster sessions were held every day as well. Afternoon breakout sessions were held in 8 rooms in the nearby Atrium building. 
The 6 keynote addresses vividly illustrated the conference theme.  Chi-Ye Chiu described efforts to improve the education system of Hong Kong using empirical research and an alliance between secondary schools, a charitable foundation, and academics, William Crano lectured about efforts to reduce drug use (especially among youth), economist Guy Standing talked about income inequality and the precariate.  Linda Nikora introduced AASP to the postcolonial situation for Māori in Aotearoa/New Zealand with regard to psychology and society. 
Two keynotes began the conference on each day. Perhaps the most memorable pairing was between incoming AASP President Emiko Kashima and Ying-yi Hong of Chinese University of Hong Kong. Their keynotes concerned the intergroup relations of acculturation, and those tensions brought on by climate change and natural disasters respectively. Dr. Kashima began by describing positive aspects of cultural influence and trade in Asia in ancient times as a prelude to describing acculturation patterns today, whereas Prof. Hong showed how collective memories of the Sino-Japanese War and World War II held by mainland Chinese reduced their empathy and sympathy for Japanese victims of the Fukushima nuclear reactor crisis following natural disaster in Japan. The two, one ethnically Japanese and one ethnically Chinese, came together with conference organizer James Liu to illustrate the historical commonalities between China and Japan (e.g., the graceful cultural interchange between China and Japan in the Tang dynasty), and the present day synergies that brought Chinese, Japanese, and Koreans together to form AASP in 1995. This day signalled perhaps the opening of a new era for AASP, where the difficult collective memories of the 20th century have now been brought into the open in a constructive manner, and can now be addressed as a topic of research and collaboration in the future.
In terms of contributions with more local flavors, Dr. Shane Harvey led a team from Massey University in Palmerston North to present their work on both community approaches to clinical services and emotional regulation across cultures. Stu Carr (who was a keynote speaker at the last AASP conference in 2015 in Cebu) was part of a symposium of his former Summer School students who have been investigating living wages in Asia (more about the Summer School later).  Siautu Alefaio-Tuiga presented on-going work in the Pacific for the Journal of Pacific Rim Psychology Special Issues, and Keri Lawson-Te Aho organized a symposium on Māori psychology.
Social events included a karaoke session, a conference dinner with live music by a talented young jazz quintet the North Sea combo, and the final episode of the latest season of Game of Thrones on the final day.  
Poster sessions were especially lively, and a source of much discussion. Putting the posters in the same hall as the food for lunch is definitely an ice-breaker!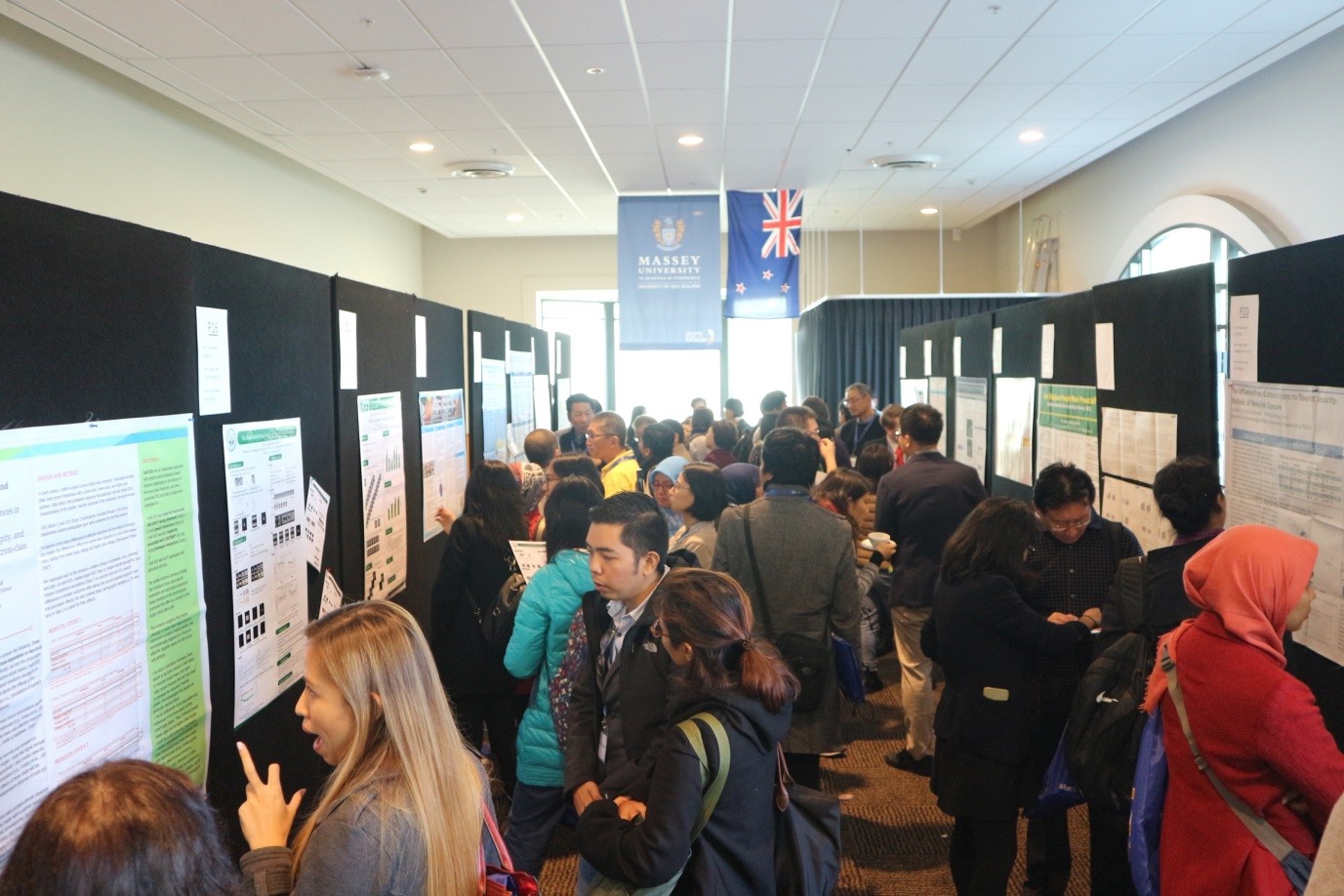 The AASP Summer School was attended by 19 students who were broken up into four research streams, led by Summer School principal Itesh Sachdev. William Crano of Claremont Colleges, Liz Jones (representing the International Association of Language and Social Psychology with whom AASP has an on-going symposium exchange agreement), and Wendy Li/Darrin Hodgetts led the other three streams. The Summer School was held at the Kawaipurapura Retreat, a 7 minute drive to the where the main conference was held. AASP will support these students to follow up on their work together by providing $1000 funding per working group, in the hopes that they can realize their projects and present the results at the next AASP conference in Taipei in 2019.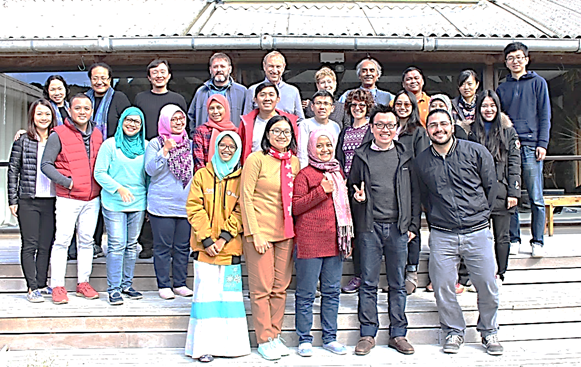 As conference organizer and chair James Liu was ably assisted by conference manager Rafaella de Araujo and AASP website administrator Belinda Bonzon Liu. They were supported by Massey PhD students Roosevelt Vilar, Robert Jiqi Zhang, Mohammad Abdul Hakim, and Auckland PhD student Ruijie Xu throughout the process. Delegates were greeted by this team, as well as Massey volunteer students Liz Nath, Petra Satele, and Orita Asi.  Massey students were instrumental in the successful conclusion of the conference, which one delegate commented was "the friendliest conference" she had ever attended. My sincere thanks to the student volunteers!
Thanks each and every one of you who came to New Zealand. We hope you had a pleasant time, and wish you will come back and visit us again some day.
Professor James Liu, Massey University